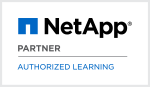 NCDA Boot Camp (NCDABC)
Who should attend
Network Professionals seeking the NetApp Certified Data Management Administrator (NCDA) certification.
This course is also valuable for those who need to perform in-depth support, administrative functions, and performance management for environments using any of the following enterprise storage solutions: CIFS, NFS, FCP, iSCSI protocols on a NetApp storage appliance running the Data ONTAP 8.1 operating system.
Prerequisites
Introduction to NetApp Products Web Based Training
Course Objectives
By the end of this course you should be able to:
Identify the various components of a NetApp storage environment
Install and perform the setup configuration of Data ONTAP
Perform basic administration on a storage system
Explain and configure physical and logical storage
Identify and configure client protocols
State virtualization techniques available in Data ONTAP
Describe Snapshot copies and space consumption in Data ONTAP
Discuss backup methods available in Data ONTAP
Configure and administer client-server relationships in NFS environments
Configure, administer, and troubleshoot storage systems in CIFS environments
Collect and analyze performance data to assist with troubleshooting storage system hardware, operating systems, network connections, NFS configuration files, and options
Define the components of a SAN environment and explain how LUNs relate to the storage system
Describe the Fibre Channel (FC) and iSCSI SAN multipathing options for Windows and Linux-based operating systems
List the storage-system and data availability methods
Configure and administer SnapRestore®, asynchronous and synchronous SnapMirror®, MetroCluster™, SnapVault®, and Open Systems SnapVault technologies
Course Content
This 10-day boot camp will prepare you for the NetApp Certified Data Management Administrator (NCDA) Data ONTAP 7-Mode exam # NSO-155. Through lectures and labs, you will learn about the features and functions of the NetApp® Data ONTAP® 7-Mode operating system and about network-attached storage (NAS) administration and SAN configuration.
Classroom Training
Duration 10 days
Price
Singapore:

US$ 10,650.-

Australia:

US$ 9,000.-

New Zealand:

US$ 9,000.-

Indonesia:

US$ 8,200.-

India:

288,000.- INR

Philippines:

340,000.- PHP

Thailand:

US$ 8,200.-

Vietnam:

US$ 8,200.-

Sri Lanka:

US$ 8,200.-




NetApp Training Units:

178 NTU
Dates and Booking
Schedule
Currently there are no training dates scheduled for this course. Enquire a date