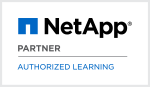 Implementing and Administering the FlexPod Solution (FPIMPADM)
Who should attend
The primary audience for this course is as follows:
Network engineers, Network administrators, System engineers and Server administrators
Prerequisites
The knowledge and skills that a learner must have before attending this course are as follows:
Technical Overview of FlexPod Solutions WBT
Cisco CCENT or equivalent
NetApp NCDA or equivalent
Familiarity with hypervisor technologies (such as Microsoft, Red Hat, or VMware)
Course Objectives
Upon completing this course, you will be able to meet these overall objectives:
Outline the FlexPod implementation workflow
List the Cisco Nexus family components
Illustrate FlexPod physical cabling
Identify the NetApp FAS and AFF components
Perform NetApp cluster setup and storage configuration
List the Cisco UCS components
Show how to configure resource pools, policies and SAN connectivity
List virtualization solutions in FlexPod
Compare FlexPod application workloads
List FlexPod Cisco management tools
Explain FlexPod NetApp management tools
Course Content
FlexPod Implementation and Administration is a 3-day instructor-led course where you will learn to set up, configure, and administer the FlexPod architecture. The course provides a comprehensive understanding of the configuration requirements for FlexPod at the network, storage, and compute layers of the architecture. FlexPod can be used to deploy and manage internal, external, and cloud architectures. Centralized administration is achieved by using management tools such as Cisco UCS Director, NetApp Virtual Storage Console, and vCenter. These management tools are introduced and practical hands on labs are used to reinforce topics.
Certification: Cisco and NetApp FlexPod Specialist (FLEXPOD)
Online Training
Duration 3 days
Classroom Training
Duration 3 days
Price
Singapore:

US$ 2,160.-

Australia:

US$ 2,700.-

India:

US$ 1,350.-
Click on town name to book
Schedule
Asia Pacific
Australia
Online Training

Time zone: Australia/Melbourne

Course language:

English

Enroll
North America
United States
Guaranteed date!

Online Training

Time zone: US/Eastern

Course language:

English

Enroll

Online Training

Time zone: US/Central

Course language:

English

Enroll

Online Training

Time zone: US/Eastern

Course language:

English

Enroll
Guaranteed date: iTLS will carry out all guaranteed training regardless of the number of attendees, exempt from force majeure or other unexpected events, like e.g. accidents or illness of the trainer, which prevent the course from being conducted.
Instructor-led Online Training: This computer icon in the schedule indicates that this date/time will be conducted as Instructor-Led Online Training.
This is a
FLEX
course, which is delivered both virtually and in the classroom.