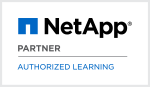 NetApp Data Protection Software Administration (NPSA8)
Who should attend
NetApp customers, support personnel and storage administrators who use SnapMirror, SnapRestore, SnapVault, Open Systems SnapVault, SnapLock®, and LockVault™
Certifications
This course is part of the following Certifications:
Prerequisites
The following pre-requisites or equivalent knowledge are required for this course:
Course Objectives
By the end of this course you will be able to:
Describe NetApp protection technology and the NetApp integrated data-protection solutions that are supported in Data ONTAP 8.1
Manage local Snapshot copies
Manage Data ONTAP 8.1 7-Mode SnapMirror replication
Manage SnapVault and Open Systems SnapVault replication
Use OnCommand Unified Manager protection and provisioning capability to set up and manage backup and restore operations
Course Content
Become proficient with Data ONTAP Snapshot®, SnapRestore®, SnapMirror®, SnapVault®, Open Systems SnapVault technologies used to replicate and restore mission-critical data in the enterprise. Backup and restore operations are taught using the NetApp storage system command line, OnCommand System Manager, and the protection and provisioning capabilities of the OnCommand Unified Manager. The course also provides an overview of the NetApp SnapProtect solution, the DataFabric Manager Server Plug-in for Symantec NetBackup, and NetApp Syncsort Integrated Backup (NSB).
Classroom Training
Duration 2 days
Price
Singapore:

US$ 1,440.-

Australia:

US$ 1,800.-

New Zealand:

US$ 1,800.-

Indonesia:

US$ 1,440.-

India:

US$ 900.-

Philippines:

US$ 1,440.-

Thailand:

US$ 1,440.-

Vietnam:

US$ 1,440.-

Japan:

190,000 円

Sri Lanka:

US$ 1,440.-




NetApp Training Units:

24 NTU
Dates and Booking
Online Training
Duration 2 days
Price
Singapore:

US$ 1,440.-

Australia:

US$ 1,800.-

New Zealand:

US$ 1,800.-

Indonesia:

US$ 1,440.-

India:

US$ 900.-

Philippines:

US$ 1,440.-

Thailand:

US$ 1,440.-

Vietnam:

US$ 1,440.-

Sri Lanka:

US$ 1,440.-




NetApp Training Units:

24 NTU
Dates and Booking
Schedule
Currently there are no training dates scheduled for this course. Enquire a date