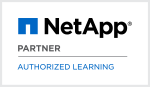 NetApp OnCommand Insight Operation and Best Practices (OCIOBP)
Who should attend
Customers, Professional Services employees, and Professional Services partners
Prerequisites
You should complete the Getting Started series videos:
OnCommand Insight Installation
OnCommand Insight Configuration
Course Objectives
After completion of the course, you will be able to:
Describe the four OnCommand Insight products and explain how they interact
Describe the three deployment phases of Insight
Describe inventory, paths, policies, thresholds, violations, and vulnerabilities
Use Insight to manage multiprotocol storage systems that use such protocols as FC, iSCSI, NFS, and CIFS
Address violations and troubleshoot performance issues
Configure business entities, applications, and annotations
Use business entities, applications, and annotations for business-level reporting
Identify the data marts and data models that are in a data warehouse
Describe how data is loaded into the data marts and data models
Create standard and custom Insight reports
Course Content
OnCommand Insight Operation and Best Practices is a 3 day instructor let class where you will learn how OnCommand Insight software enables you to manage and improve an organization's IT infrastructure and service management processes. This hands-on course explains the features and functions of the Insight suite of products and how Insight products work together as a solution. You learn how Insight helps you use service policies to manage storage, plan for change, and use resources and capacity more effectively. You complete extensive exercises in which you use best practices and operational procedures to manage Insight. You also review and use data warehouse performance reporting features.
Classroom Training
Duration 3 days
Price
Singapore:

US$ 2,160.-

Australia:

US$ 2,700.-

New Zealand:

US$ 2,700.-

Indonesia:

US$ 2,160.-

India:

US$ 1,350.-

Philippines:

US$ 2,160.-

Thailand:

US$ 2,160.-

Vietnam:

US$ 2,160.-
Dates and Booking
Schedule
Currently there are no training dates scheduled for this course. Enquire a date