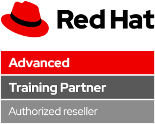 Red Hat Certified System Administrator (RHCSA) Exam (EX200)
Who should attend
Experienced Red Hat Enterprise Linux system administrators seeking validation of their skills
Students who have attended Red Hat System Administration I and II and are on the path to earn RHCSA certification
Experienced Linux system administrators who require a certification either by their organization or based on a mandate (DOD 8570 directive)
IT professionals who are on the path to earn RHCE certification
An RHCE who is non-current or who is about to become non-current and wants to recertify as an RHCE
Prerequisites
Combination of Red Hat System Administration I and Red Hat System Administration II courses or equivalent experience
Equivalent experience to the

!

RH-200
Course Objectives
In preparation to earn an RHCSA, Red Hat recommends: For Windows System Administrators
!

RH-124

!

RH-135 For Linux or Unix Administrators

!

RH-200 Exam Self-study
RHCSA Exam Objectives
Course Content
his certification exam is performance-based, meaning that candidates must perform tasks on a live system, rather than answering questions about how one might perform those tasks.
The hands-on nature of this exam make real-world experience a critical facet of preparation.
Exam results are emailed within (5) US business days following the exam.
An RHCSA certification has a 'current' window for 3 calendar years. This 'current' window can be extended by earning additional Red Hat credentials. See re-certification policies for more information.
Classroom Training
Duration 3 hours
Schedule
Europe
Germany
Munich

Course language:

English

Enroll

Munich

Course language:

English

Enroll

Stuttgart

Course language:

English

Enroll

Munich

Course language:

English

Enroll

Munich

Course language:

English

Enroll

Munich

Course language:

English

Enroll

Stuttgart

Course language:

English

Enroll

Stuttgart

Course language:

English

Enroll

Munich

Course language:

English

Enroll

Stuttgart

Course language:

English

Enroll