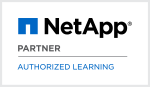 Implementing Microsoft Hyper-V on Data ONTAP (IMPMSHV)
Who should attend
NetApp employees, channel partners, and customers
Prerequisites
NetApp core technical training or equivalent knowledge
NetApp SAN core technical training or equivalent knowledge
Basic knowledge of Microsoft virtualization and hypervisors
Course Objectives
By the end of this course, you should be able to:
Describe Microsoft Windows Server 2012 R2 Hyper-V virtualization solution
Articulate the NetApp value proposition when integrating the Data ONTAP operating system with virtualization solutions
Describe the main concepts, terminology and operation of SnapManager for Hyper-V v2.1
Demonstrate the configuration of SnapManager for Hyper-V v2.1 hosts, datasets, policies, event notifications and reporting
Identify capabilities, functions and integration of the Microsoft and NetApp management, backup, and migration tools in a public, private and hybrid cloud environment
Course Content
Implementing Microsoft Hyper-V on Data ONTAP (IMPMSHV) is a 2 day instructor led course where you will learn how to design and implement virtualization solutions on NetApp® storage systems using Microsoft Hyper-V. You will also discover how to deploy the Microsoft Windows Server 2012 R2 virtual infrastructure on Data ONTAP storage.
Updated Features:
Alignment with 8.3
Deployment of MS Windows Server 2012
Snap Manager for HV v2.1
SDW 7.1
Classroom Training
Duration 2 days
Price
Singapore:

US$ 1,440.-

Australia:

US$ 1,800.-

Japan:

190,000 円
Click on town name to book
Schedule
North America
United States
17/10/2019 - 18/10/2019

Online Training

Time zone: US/Central

Course language: English

Enroll
This computer icon in the schedule indicates that this date/time will be conducted as Instructor-Led Online Training.
This is a
FLEX
course, which is delivered both virtually and in the classroom.