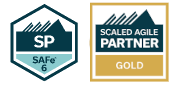 SAFe® for Teams (SP)
Course Overview
A Scaled Agile Framework® (SAFe) Agile Team member, represented by the SAFe® 5 Practitioner (SP) certification, is a professional on a team of dedicated individuals who, together, have the skills necessary to define (elaborate and design their component or Feature), build (implement their component or Feature), and test (run test cases to validate their component or Feature) increments of value in a short timeframe.
During this two-day course, attendees of SAFe for Teams training course will gain an in-depth understanding of the ART, how it delivers value, and what they can do to effectively perform their role using Scrum, Kanban, and XP.
They will also learn how to write stories and break down features, plan and execute iterations, and plan Program Increments. Finally, they'll learn about the continuous delivery pipeline and DevOps culture, how to effectively integrate with other teams in the program, and what it takes to continuously improve the train.
Attending the class prepares individuals to take the exam and achieve certification for SAFe® 5 Practitioner (SP).
Who should attend
The following individuals will benefit from this course:
Team members who apply Lean and Agile at scale
All members of an Agile Release Train preparing for launch
Prerequisites
All are welcome to attend the course, regardless of experience. However, the following prerequisites are highly recommended for those who intend to take the SAFe® Practitioner (SP) certification exam:
Familiarity with Agile concepts and principles
Awareness of Scrum, Kanban, and XP
Working knowledge of software and hardware development processes
Course Objectives
To perform the role of a SAFe® Practitioner, attendees should be able to:
Apply SAFe to scale Lean and Agile development in their enterprise
Know their team and its role on the Agile Release Train
Know all other teams on the train, their roles, and the dependencies between the teams
Plan iterations
Execute iterations and demonstrate value
Plan Program Increments
Integrate and work with other teams on the train
Online Training
Duration 2 days
Classroom Training
Duration 2 days
Click on town name or "Online Training" to book
Schedule
Instructor-led Online Training: This computer icon in the schedule indicates that this date/time will be conducted as Instructor-Led Online Training.